Saxilby Waterfront Working Group
Regenerating Bridge Street Conservation Area
Bridge Steet was designated as a Conservation Area in 1989. In 2017 when Historic England responded to the consultation on Saxilby with Ingleby's Neighbourhood Development Plan, the council was informed that the conservation area was on Historic England's At-Risk Register and is currently classed as 'vulnerable', due to 'dilapidation and loss of detailing.'
Bridge Street Working Group was set up in 2017 to try to halt and subsequently reverse the deterioration of this important area and with the vision of Bridge Street Conservation Area being:
'A vibrant, well maintained place to live, work and visit.
Its historic character, architectural heritage and waterway will be celebrated, preserved and enhanced.'
A masterplan and visuals for the area were developed, based on public consultation and the working group has used this as a basis for making improvements to the public realm. This has included developing a community green space on Bridge Place Corner, complete with pathway, seating, tree and hedge planting.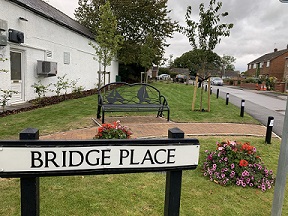 Other improvements include new benches, sowing wildflowers, tree planting, installing bug hotels and bird boxes and clearing overgrown areas and pathways. Saxilby Waterfront Festival has also now become an annual event. Other planned improvements include refurbishing the public toilets and installing a new noticeboard and gateway signs.
The latest agendas and minutes for the working group can be found below.